Guarding Systems - Serie Global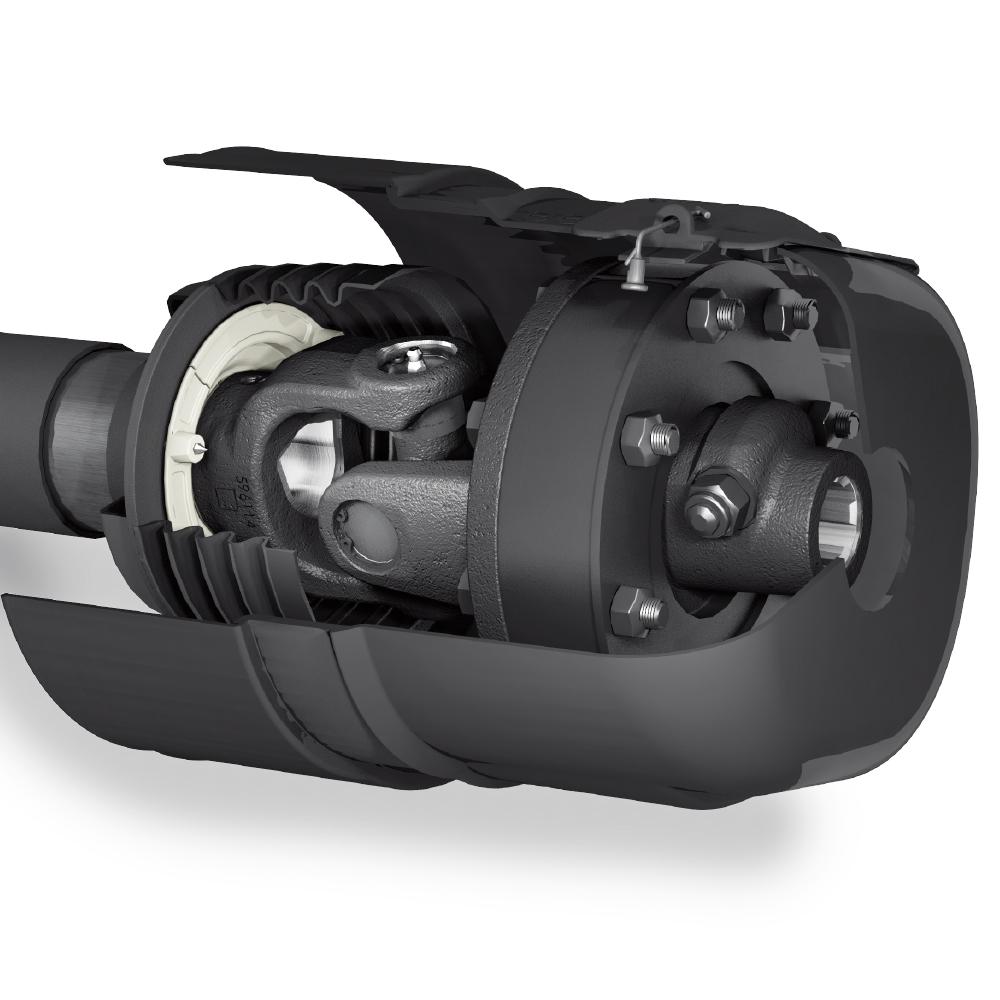 Key Features
All rotating part must be shielded.
The tractor master shield, the driveline guard, and the implement shield all work togheter for your safety.
Proper use and maintenance of the driveline and shielding is of primary importance for operator safety. A high percentage of driveline accidents occur when safety shielding is missing or does not function properly. Bondioli & Pavesi recommends the use of proper shields and guards for the driveline, tractor, and implement. Damaged or missing components must be replaced with original equipment spare parts, correctly installed, before using the driveline. Use the implement only with the original driveline. The implement input connection shield must be compatible with the driveline and the application.
| Document type | Document Language | Code | Title | Revision | PDF |
| --- | --- | --- | --- | --- | --- |
| Brochure | | | | | Download |
| Brochure | | | | | Download |
| Brochure | | | | | Download |
| Brochure | | | | | Download |
| Brochure | | | | | Download |
| Brochure | | | | | Download |
| Brochure | | | PTO Drive shafts Safety information | | Download |
Catalogue - Product sheets

| Document type | Document Language | Code | Title | Revision | PDF |
| --- | --- | --- | --- | --- | --- |
| Catalogue - Product sheets | | | Driveline Catalogue GLOBAL G017 | | Download |
| Catalogue - Product sheets | | | | | Download |
| Catalogue - Product sheets | | | Repair Manual SERVICE 015 | | Download |
| Catalogue - Product sheets | | | Testing machine for torque limiters 020 | | Download |
Use and maintenance manuals

Document type
Document Language
Code
Title
Revision
PDF
Use and maintenance manuals

EN

FR

ES

PT-BR

DE

IT

NL

DA

SV

NO

FI

EL

PL

CS

ET

LV

LT

MT

SK

SL

HU

RU

BG

RM

TR

HR

Download
Use and maintenance manuals

EN

FR

ES

PT-BR

DE

IT

NL

DA

SV

NO

FI

EL

PL

CS

ET

LV

LT

MT

SK

SL

HU

RU

BG

RM

TR

HR

Download
Use and maintenance manuals

EN

FR

ES

PT-BR

DE

IT

NL

DA

SV

NO

FI

EL

PL

CS

ET

LV

LT

MT

SK

SL

HU

RU

BG

RM

TR

HR

JP

Download
Use and maintenance manuals

EN

FR

ES

PT-BR

DE

IT

NL

DA

SV

NO

FI

EL

PL

CS

ET

LV

LT

MT

SK

SL

HU

RU

BG

RM

TR

HR

Download
| Document type | Document Language | Code | Title | Revision | PDF |
| --- | --- | --- | --- | --- | --- |
| Spare Parts | | | | | Download |